Our meeting this week on Thursday5th August 2021 was all about making wooden toys, the meeting was organised by Mike Day and Mike chose the subject matter, wooden toys. Mike also suggested that the toys could be made using some mobile parts to them, other than that he left the decision on what to make very much up to yourself.
The response was as is to be expected now very poor with only 3 contributors, Dave Line, myself and Mike himself.
Mike also put forward a very detailed description of the item he made, I will start with that,
Hi Alec,
Just a few words and pictures for my submission for the toy challenge. I've attached a very short video too. If you are able to put that up on the website, it will show it in action. If not, there is a photo of me loading the cannon. Sadly I don't have any progress pictures but it's such a simple thing anyone could make it.
Thanks, Mike Day.
The blurb:
My brother-in-law has a keen interest in historical battles so last Christmas I made him a cannon. I drew up a rough plan and as it is a small item I was able to make the whole toy from leftovers from previous projects. I'm sure we all have a box of offcuts and this was a perfect way of utilising some. I made 6 small shells which are pushed into the barrel. You then pull back the firing pin and a rubber band provides resistance with which to propel the shell out.
The barrel is 5 inches long and made from yew. The 'firing pin" is a dowel made from birch and is glued into the bit that you pull back.
The wheels are 2.5″ in diameter and are mounted onto an axle made from a birch dowel. Two small birch end caps are glued on the ends of the axle to hold the wheels on. The wheels are free rolling not fixed.
In the picture showing the underneath, you will see three small half moon shaped pieces made from Elm. One provides a support for the rear of the cannon and the other two support the front axle.
The rectangular bed of the carriage is a piece of old pine bed slat. Needs must.
The shells are birch. I decided not to go with cannonballs as I have not mastered turning a sphere yet.
As it is for a grown up child I didn't need to put a child safe finish on it. The barrel and the wheels are finished with friction polish and the stand/carriage has a couple of coats of spray lacquer. I think I'll be making him a trebuchet for next Christmas!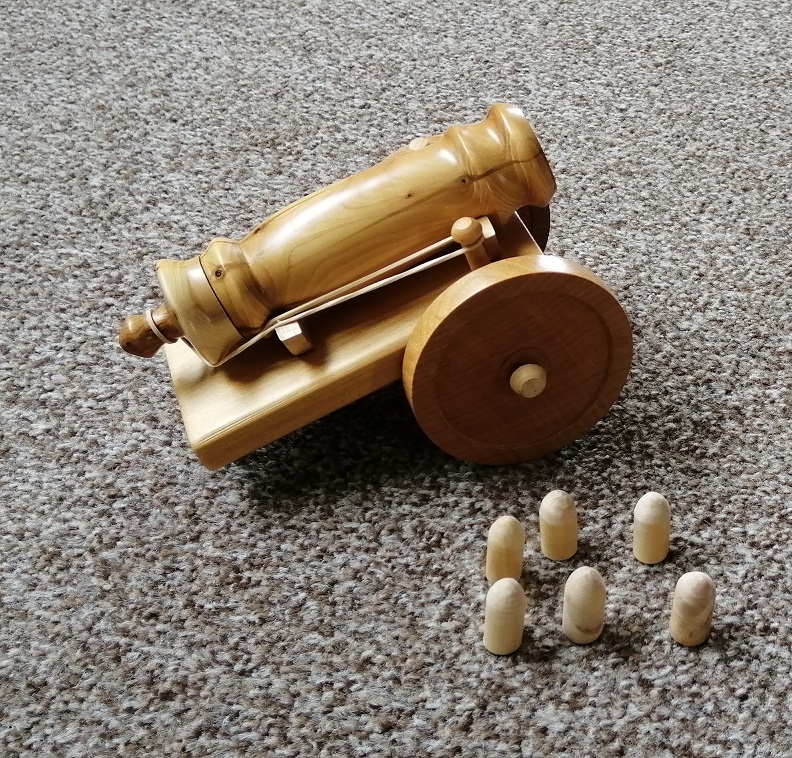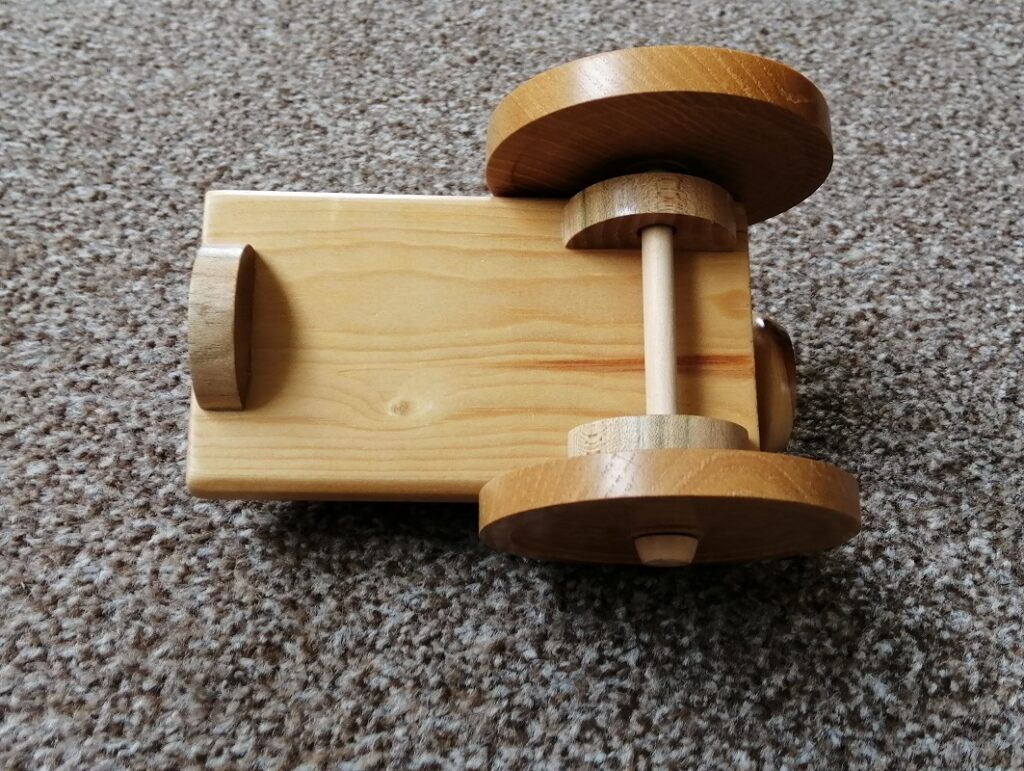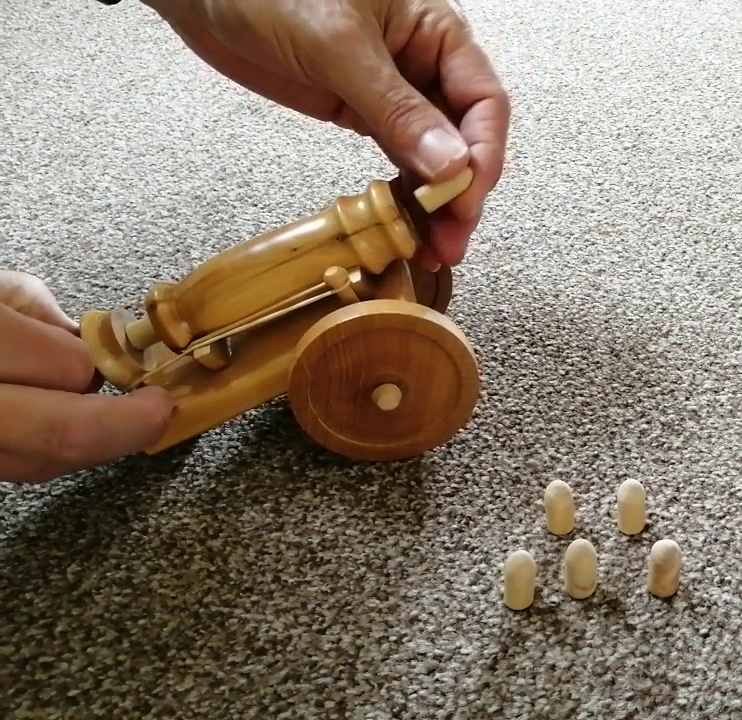 Thanks Mike for the post plus the video.
Now for Dave Line's contribution, this is what Dave had to say about his entry,
Hi Alec,
Please find attached my attempt at making a wooden toy that moves (when you push it). It stands 230mm high, 185mm long and 70mm wide. It is made from offcuts of Ash and Sycamore and It actually works! Not a lot of turning though, only the wheels.
Stay safe, Dave Line.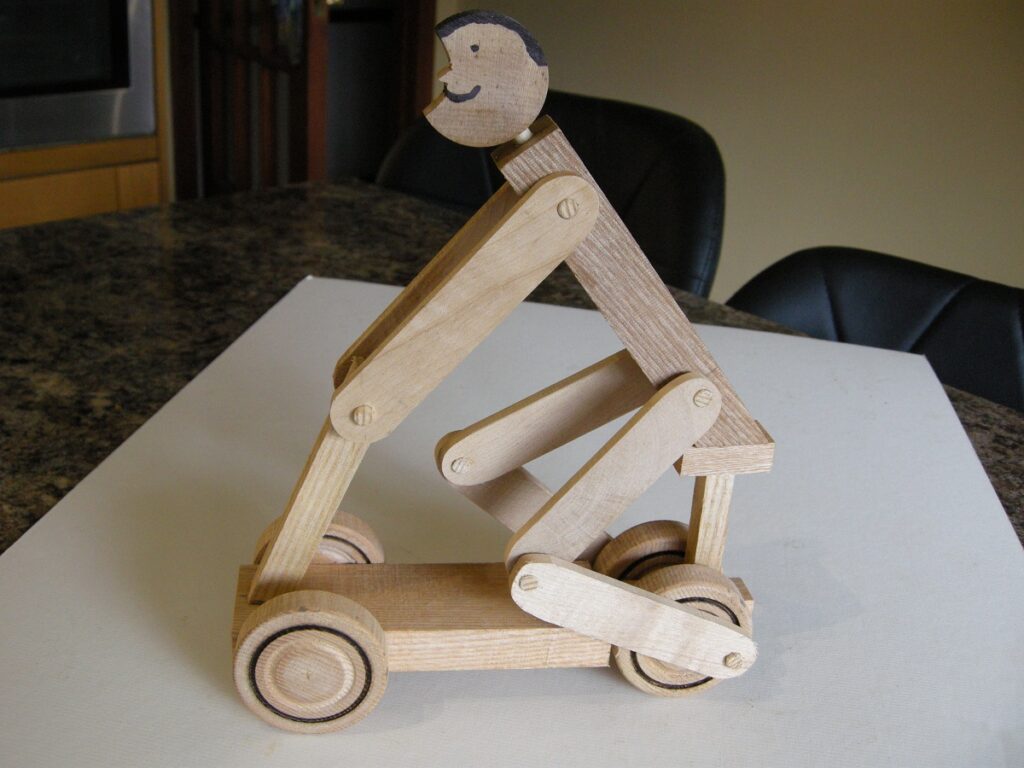 Now for one of my own, This was a Cannon I made some time ago, it's about 150mm long by about 60mm high, the barrel was painted using toy safe paints.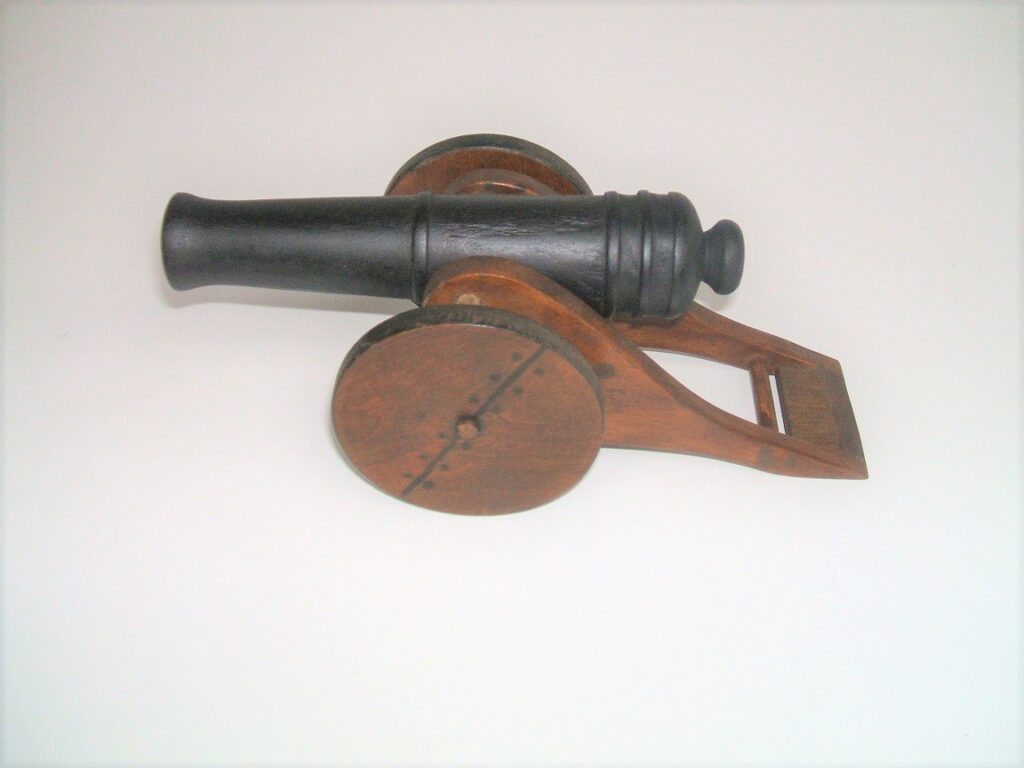 Some of the simplest toys are the spinning tops, here I have given you a few pictures of how I make them.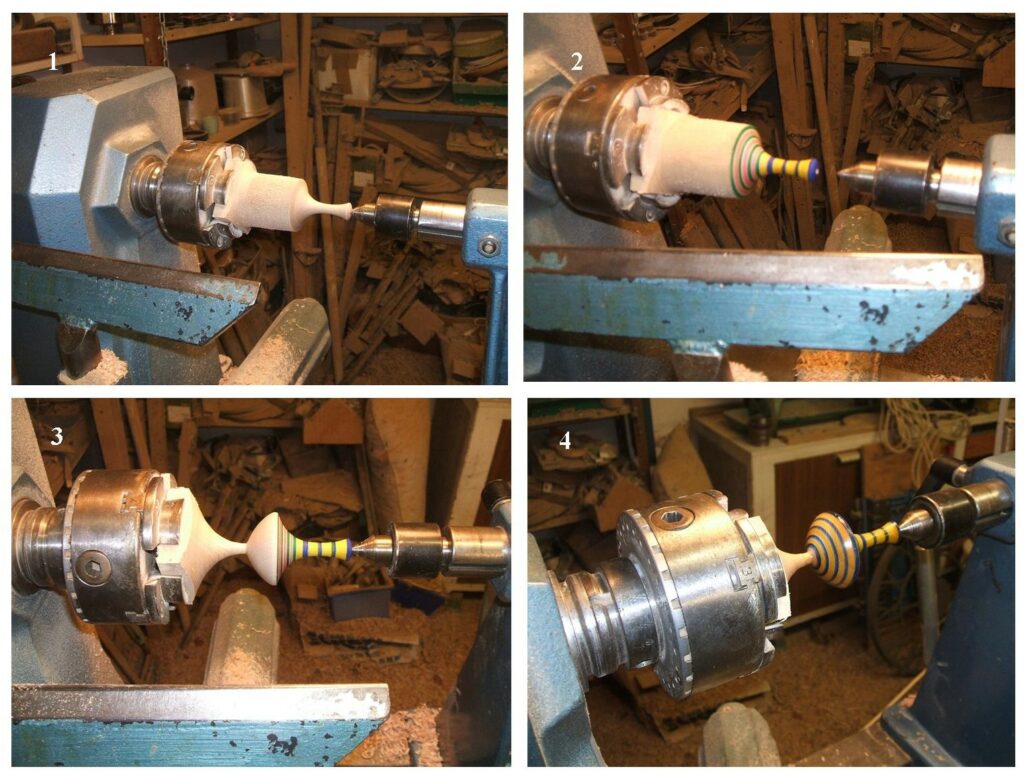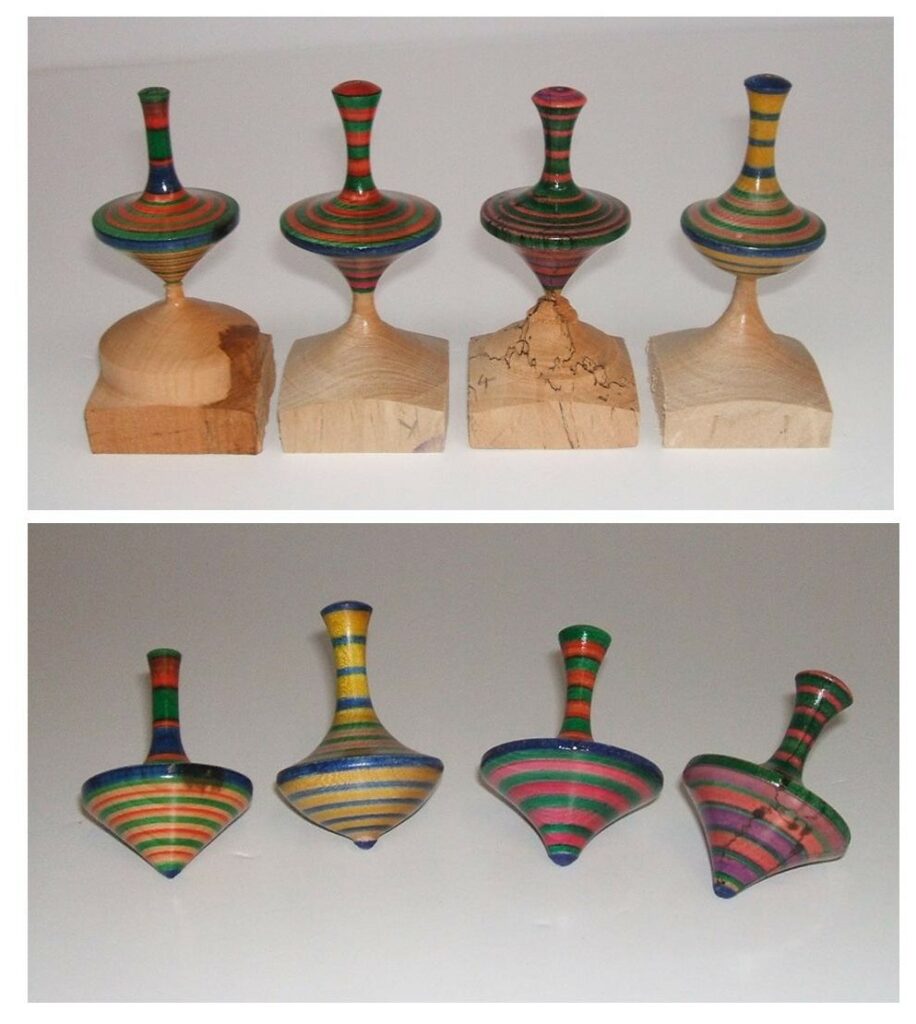 Here is a picture of a farm set I took from the Internet, I thought it might be interesting to do and would give any child a lot of fun playing with it.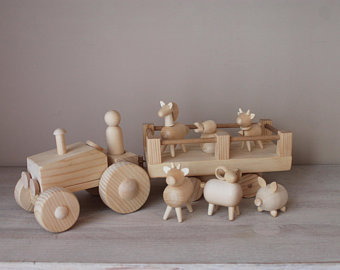 Our next meeting is due on the 19th August, we are looking to see if we can resume our meetings on that date at our premises in Munlochy, to that end we have a committee meeting on Tuesday 10th August for a decision on the way forward. I will do a post on our web site plus the facebook page, and Geoff will notify all by email after the meeting.
Do remember the clubhouse remains closed.