Just in today a picture from John Ruickbie, John's usual work is mainly woodturning and that often consists of mainly laminated work pieces, however John admitted to me today that due to the lockdown he was running out of suitable woods for woodturning, this has led him down a different road where he has made use of a lot of very small pieces of wood in a wood craft called Intarsia, for those who are not familiar with Intarsia it's very similar to that of Marquetry the main difference is that the Intarsia is cut 3 dimensional, where as the Marquetry are all cut very thin and all the same thickness. This is an art that requires a very good knowledge of shape and form and most of all very accurate cutting,
This is what John had to say about his picture,
I have attached a photo of my first attempt at intarsia they are fridge magnets and as you see use very little wood but require very accurate cutting. Some parts are natural wood others are coloured using spirit stain. They are assembled on a thin backing board with rare earth magnets inserted.
Regards John Ruickbie.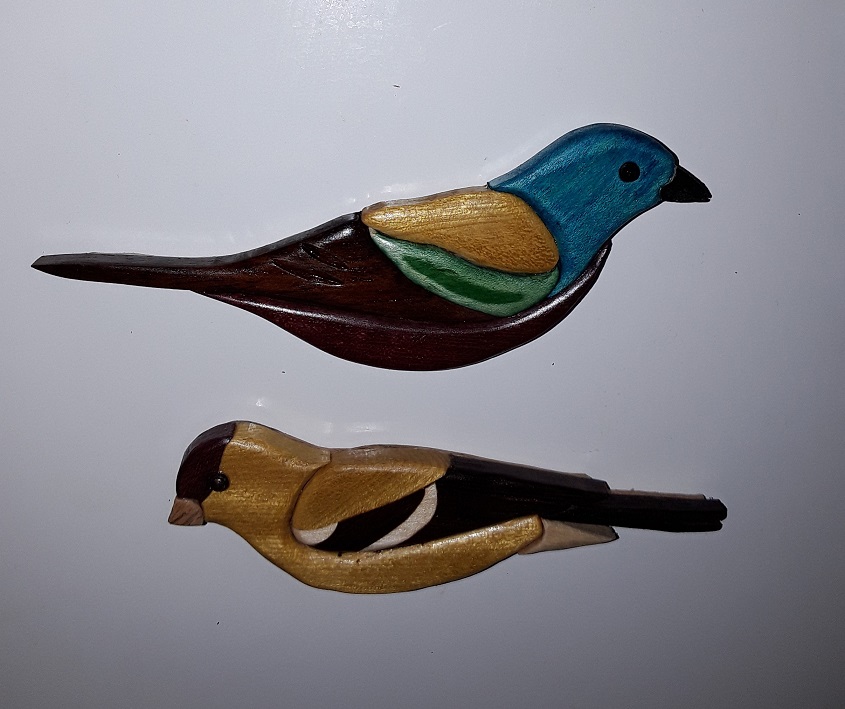 These are not woodturning in any way, but we are a woodworking club that specialises in woodturning but not to the exclusion of any other type of woodworking. We are always going to be accommodating to any other type of woodwork that any of you who follow the web site and facebook pages want to show, this will include anyone who is not a member but who follows the online service.
Please keep sending me your pictures and text, I'm sure the members are always looking to see what other members are doing.
Remember the clubhouse remains closed.