Start time 6.45pm.
Our meeting this week on Thursday 28th April 2022 is once again a Showtime meeting. The meeting is organised by Peter Lawrence but I will be doing the job of compere. These meetings are to let others see exactly what you have done recently or indeed in the past, anything that you have made is acceptable and if there is a particular reason or story behind what you have brought in so much the better, but all we really want is for you to show your work. Do not be thinking just because you may have only started woodturning fairly recently that you could not show your work, we want to see everyone's work, so bring them along, do remember you are not limited in the number of items you bring in to be shown.
How to enter to show, bring your items in a bag or covered in some way, report to me (Alec Mutch) that you have brought something, you will then be given a number for being called out, keep your items under cover until you number is called out, you will then come to the table to present your work and hopefully give some information on whatever you bring.
I have selected a few pictures from past Showtime meetings that will give you some idea of the wide range of items that were made and presented at some of our Showtime meetings.




We had no Showtime meetings during the whole of 2020 at the clubhouse but we did have an online version of a Showtime meeting, here are a few pictures from that meeting.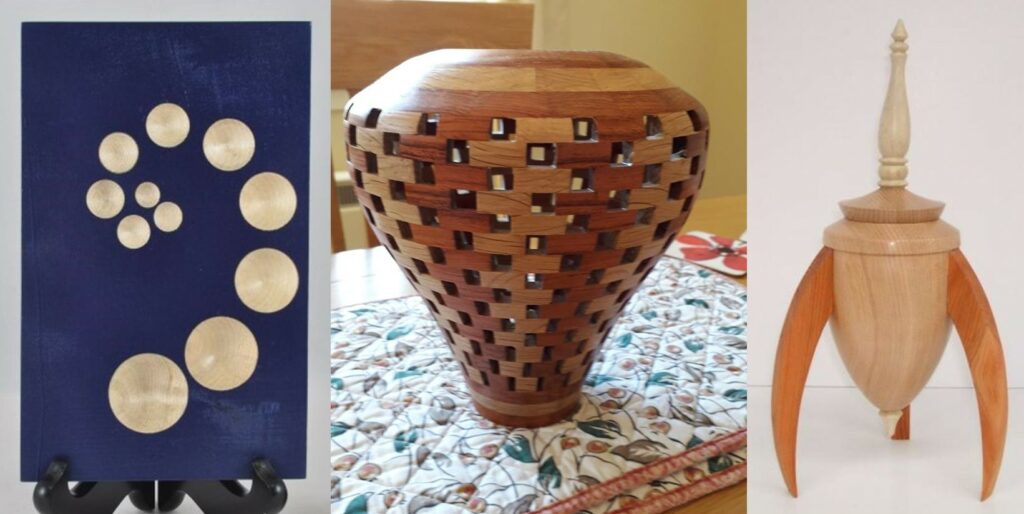 You will have seen that there were lots and lots of variety in the items being shown, come and add to them at this meeting, we are looking forward to seeing what you bring along.
Our next meeting after the Showtime meeting will be on the 12th May 2022 and is being managed by David Ross, the subject matter will be making small items on 3 of the lathes, in addition to that 2 of the lathes will be used for some specific training purposes requested by our training manager. You will still be able to observe at all 5 lathes.