Our next competition on 22nd August 2019 is all about spindle turning. The criteria and guidelines for this competition are as follows. Spindle turning applies to any work that is held between centres at the same time, i.e. headstock and tailstock, we will accept entries that have an element of faceplate work in them, like the base to a table lamp for example as long as the faceplate work is less than 50% of the rest of the item being made.
Criteria and guidelines, spindle turning.
NOVICE.
Any spindle turned item that consists of only one piece of wood.
INTERMEDIATE.
Any spindle turned item that consists of two pieces of wood, it can be made into a single piece by laminating if required or used separately (like salt and peppers).
EXPERIENCED.
Any spindle turned item that consists of at least three pieces of wood, laminating is a possibility or any other construction method, or used as separates (like fruits).
Here are some examples of spindle turning, you will see that there are some elements of faceplate work on some of the items, this is perfectly acceptable. You need not follow any of these examples if you have an idea of your own in your category.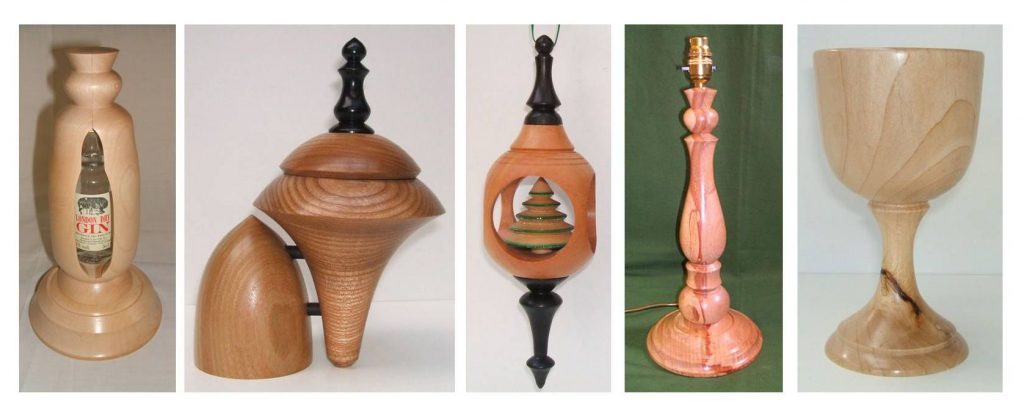 We are looking for lots of entries in all three categories, do remember there are prizes of £25.00 for the winner in each category. Colin MacRae and Jim Kelman will be the judges for this competition. Good luck to all of you.
Whilst the competition judging is going on, Colin has arranged for 4 turners to man the lathes on free turning, these are Bill Munro,David Hobson,Dave Line and David McGruer.